180-minute line (2017)
Audio recording, 3:00:00 sec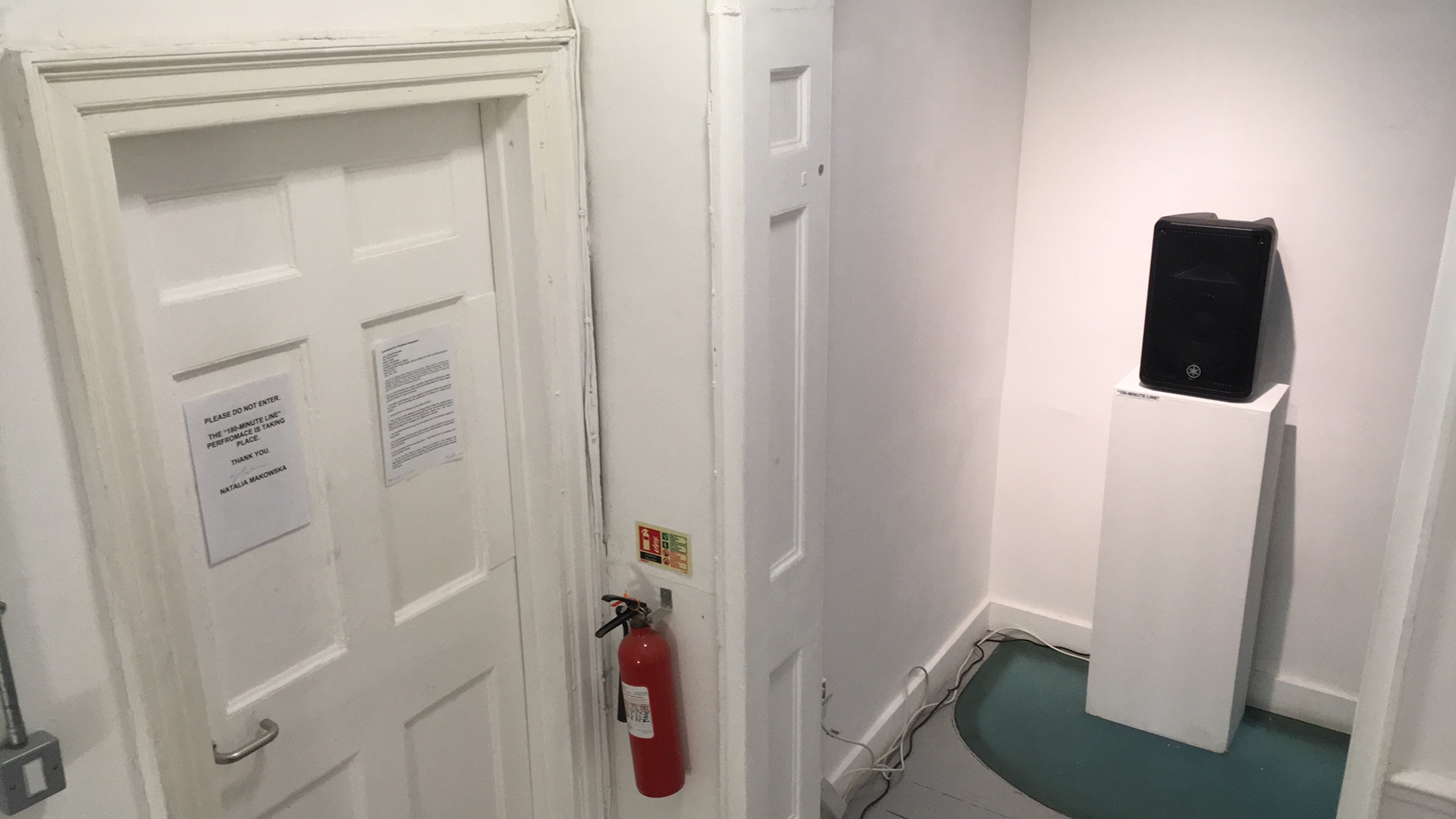 Title: 180-minute line
Medium: Sound
Duration: 180 minutes
Dimensions: Variable and Infinite
Place: Second Floor Project Space, City and Guilds of London Art School
Date: 30.10.2017
Time: 11am - 2pm

'Timeline' is an ongoing series of visual and sound works. I began with the 10-minute line drawing and I continued to develop the line with every next line being increased by 10 minutes. Alongside the drawings I have also been sound-recording some of the lines. The last 'Soundline' is titled 170-minute line. The title indicates what one is listening to, however the question of what is the line is constantly recurring.

This is an announcement for a public, durational, site-specific performance titled 180-minute line, that lasted for 180 minutes and took place in the Project Space at City and Guilds of London Art School.

1. I will create a wall drawing of a line, drawing continuously without any pause for 180 minutes. I will be recording the performance of drawing, on a digital sound recorder.

2. 180-minute line is a drawing of a line made of sound.

3. There will be no entry allowed to the Project Space whilst the performance is taking place. I will not be seen whilst drawing the line. Only I will be inside the Project Space for the entire duration of the performance. Beside me I will have a microphone plugged into a speaker and a digital sound recorder.

4. The 'Soundline' sound will come from the speaker that will be placed outside the Project Space.

5. The wall drawing of the line will not be revealed or seen by anyone at any point. It will not be photographed and there will be no visual representation or preservation of the wall drawing.

6. The wall drawing will be destroyed after the 180-minute line is completed and the sound recording is saved.

7. The line will only exist as sound, influenced by being in the present and responding to the environment. Everything recorded will be part of one line: my breath, the act of drawing, the movement of the body and the sound of the materials in the space.